We worked closely with lifestyle retailer Oliver Bonas to design and manufacture a jewellery box advent calendar.
The brief was to design an advent calendar to the highest quality so that it could be retained as keepsake jewellery box forever, and re-used throughout the year. The numbered drawers are reversible and feature a sunbeam design on the alternate side.
The box was designed with sustainability in mind and manufactured with FSC recycled paper & recyclable material, with added recyclable foil print finishes.
The advent calendar was sold in store and online as part of the Oliver Bonas Christmas range.
In 2022, the Independent reviewed a variety of Jewellery Advent Calendars, with 12 Days of Dazzle being voted as Best Overall Buy from the selection. The article highlights how the packaging 'has been designed to be used as a useful storage solution long after the Christmas countdown is over,' and is therefore best overall for its longevity, a gift to last.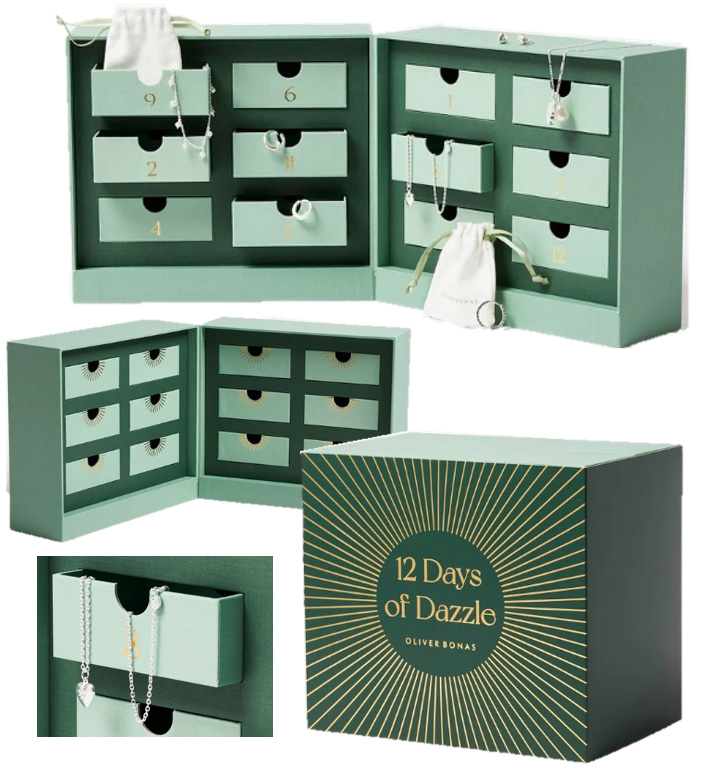 How can we help you?
Have a paper engineering project you'd like to discuss? No matter how big or small, we have the skills and expertise to design and produce as cost-effectively as possible.